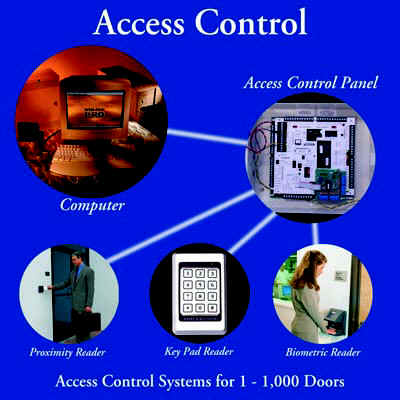 Access Control
Do you feel that you have no control of when individuals are coming and going in your facility or would you like more control?
Access control is granting access to the right person at the right time. Entry is obtained by the use of either keys; or electronic access control systems including cards, biometric readers or personal identification number (PIN) keypads.
Keys
Keys are the standard access to locked doors. However, once a key is handed to an individual there is no way to control when they can use it. The individual has the control to, in most cases, make duplicates and enter locked doors at their discretion.
Electronic Access Control
In order to control access to a single door or multiples of doors it is necessary to use one of the electronic access control systems. These systems allow for the ability to program the door(s) to lock or unlock at designated times, add and delete users, and print audit trails. An audit trail records user activity. The systems are powered either by battery or an independent power supply. A personal computer is used for programming and monitoring as needed.
Cards
There are several different credentials included in card access systems. The credentials include cards, tags, and keys with electronic key heads. These access control systems include card swipers, insert readers, or proximity readers. The proximity reader can read the card from a short distance, for instance in the user's pocket.
Curt's Lock & Key Service, Inc.
1102 Main Ave
Fargo, ND 58103-1755