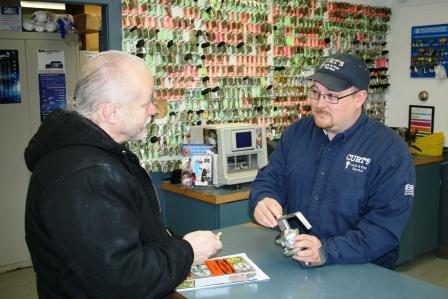 Lock Hardware
High Security Locks
High security locks provide superior strength, pick resistance, and restricted keyways. A restricted keyway offers control over key duplication. These keys can only be duplicated by a professional locksmith and only with authorization from the owner. High security brands include Medeco, ASSA, and Schlage Primus.
Knobs/Levers
We sell and service many brands including:
Residential - Schlage, Kwikset, Weiser, Weslock
Commercial - Schlage, Corbin Russwin, Yale, Sargent
Knob and lever locks are available in the following functions:
Entry - key operated exterior with a locking button on the inside. This locking mechanism can be changed to the always unlocked position by depressing the interior button;
Privacy - poke hole exterior and locking button on the interior;
Passage - non locking;
Storeroom - key operated exterior, no button on the interior. This lock is always locked from the exterior;
Classroom - key operated exterior, no button interior. This lock can be always in the locked position or changed to the unlocked position by manually overriding the locking mechanism with a key.
Deadbolts
A knob lock alone provides privacy and convenience, not necessarily security from a potential burglary. A dead bolt lock provides greater security by the use of a solid bolt. Curt's Lock & Key Service installs residential and commercial deadbolts on wood and metal doors. We recommend a bolt that extends a minimum of 1", a case hardened cylinder guard, and a strike plate mounted with four, three-inch screws. Also, remember a lock is only as good as the door. A dead bolt installed on a hollow wood door does not provide the security it is intended for.
Exit Devices
A door exit device is used when a door is subject to high usage and a knob or lever does not meet building or fire codes. Exit devices control the egress capabilities of a door. These products include crossbar and touchbar devices and door closers.
Padlocks
We have padlocks available for many applications from gates to trailers, from sheds to luggage,

from bikes to lockers, for example. Sizes and features of padlocks vary for their intended use. Padlocks can be purchased keyed different, keyed alike in desired quantities, or combination style. In addition, there are padlocks available that can be keyed the same as your office or house key. Curt's Lock & Key Service also sells padlock accessories including hasps, cables, chains and safety lockout supplies.
Electrified Hardware
Electrified hardware is used when control over door usage is an issue. Curt's Lock & Key Service sells, installs, and services a wide array of electrified hardware including: magnetic switches, electric strikes, touch bar exit devices, switch locks, push button keypads, card access devices, biometric readers and door alarms.
Door Hardware
Curt's Lock & Key Service offers a selection of door hardware products including: hinges, strike plates, trim and cover plates, latches, catches, push and pull handles and latch guards.
Americans with Disabilites
For commercial applications, we can assist in determining what hardware is necessary to comply with the Americans with Disabilities Act of 1990, building code and life safety code.
For complete information regarding the Americans with Disabilities Act of 1990, please write: Office of the Americans with Disabilities Act, Civil Rights Division, U.S. Department of Justice, Washington, D.C. 20530. Or phone: (202) 514-0301 (Voice), (202) 514-0381 (TDD).
For information regarding local and state standards, please write: The Architectural and Transportation Barriers Compliance Board, 1111-18th Street N.W., Suite 501, Washington, D.C. 20036. Or contact your local building or fire inspector.
Curt's Lock & Key Service, Inc.
1102 Main Ave
Fargo, ND 58103-1755